GOLD OAT MEAL is a high protein meal replacement with added mct oil & cla. Ideal for breakfast or between meals. GOLD OAT MEAL is a great source of carbs and fibre and high in many vitamins and minerals. Not only GOLD OAT MEAL is a delicious breakfast food – it's also very filling.
– added mct oil & cla
– whey protein isolate & concentrate
– 100% wholegrain oats
– servings per container (30)
– high protein (40g) per serving
– added bcaa and glutamine
Recommended Use: Mix 2 scoops of powder (100 g) with 250-300 ml of water or skimmed milk. Use ½-1 serving 45-75 minutes before workout and ½-1 serving immediately after workout. During non-training days use 1 serving between meals.
Warnings: Do not use if you are allergic to any of the product compounds. Do not use if pregnant or nursing. A varied and balanced diet and healthy lifestyle is recommended. Contains ingredients from: milk and oats (gluten). Keep out of reach of children.
GOLD OAT MEAL 
KEVIN LEVRONE – GOLD LINE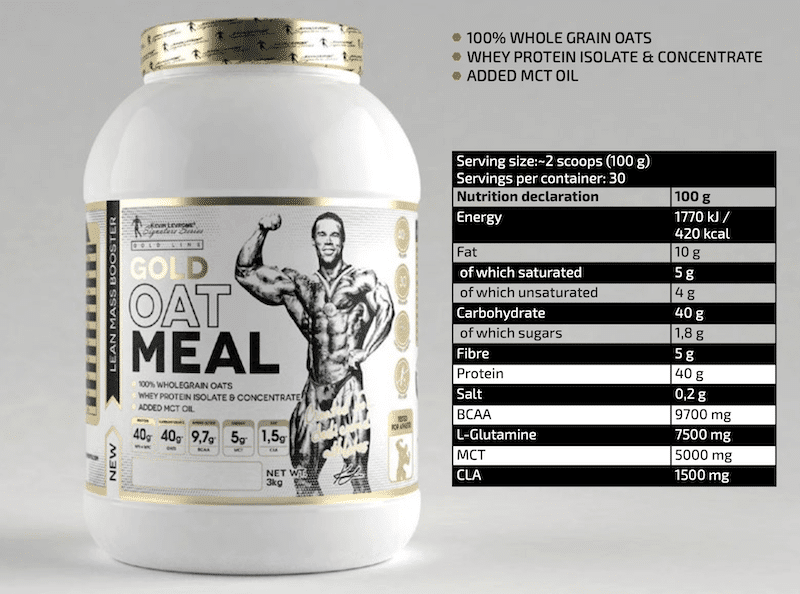 Ingredients: Ground oatmeal (from oat), whey protein isolate (from milk), whey protein concentrate (from milk), medium chain fatty acids, conjugated linoleic acid, natural flavourings, natural colours, anti-caking agent, sweetener (sucralose).